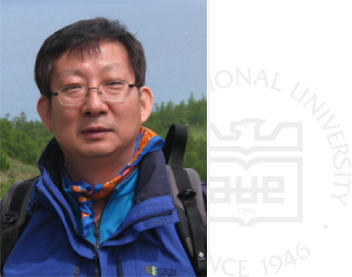 Department Chairman
Son Moon
Greetings! Welcome to the Department of Geological Sciences at Pusan National University.
Our department, established in 1953, currently includes 7 faculty members and 8 lecturers who direct the studies of over 220 undergraduate and graduate students. It has grown into a comprehensive geological group covering diverse fields which include not only the basic studies such as petrology, mineralogy, stratigraphy, paleontology, structural geology, volcanology, tectonics, geophysics, and geochemistry, but also the applied ones such as engineering geology, resource geology, environmental geology, and hydrogeology. And our department offers programs leading to BS and MS degrees as well as Ph.D. in Geology. All faculty members are always looking for enthusiastic students with full of curiosity about the Earth, and we will heartily help them to caver out their future.

Our web site provides both academic and nonacademic information including introduction of faculty and students, faculty interests and researches, academics, alumni, etc. I hope that past, present, and potential students, as well as other friends, benefit from the information contained herein. I encourage you to explore the web site and feel free to come by and visit. If you have questions or comments about our department or the web site, access the menu "COMMUNITY".